"A Bog's Life" Art Contest
Demonstrate your creativity by showcasing the beauty of Burns Bog
Every year a new theme is chosen that reflects a certain aspect of Burns Bog. We encourage entries  of a variety of different art types (Drawing, Photography, Sculpture, Painting, Writing, and more!). If you enter this year, we encourage you to join us and celebrate our winners at our International Bog Day Open House July 24 in the Delta Nature Reserve! 
One winner will be selected from each age category. Each winner will receive a Prize Pack from Opus Art Supplies and the Burns Bog Conservation Society, and an invitation to a tour of the Delta Nature Reserve! 
The Tiny Worlds of Burns Bog 
Sometimes, the most important parts of an ecosystem can be the smallest! Create any form of art (Drawing, painting, sculpture, photography, writing)  that tells the story of a "small world" of Burns Bog. For example, you could write a poem about the beauty of dragonfly wings, illustrate a forest of mosses, lichens and mushrooms, or paint a day in the life of a shrew. 
Art can also be of another aspect of the Burns Bog or the Delta Nature Reserve wildlife or environment. Art pieces must represent some aspect of Burns Bog/the Delta Nature Reserve.
1. Create a piece of art that represents Burns Bog/Delta Nature Reserve in any of the following mediums:
Drawing or Painting
3D Sculpture
Writing (Poems, Stories, etc.)
Photography
2. Fill out the Online Submission Form or the Printable Form. 
3. Upload you art through the online submission form*, or send/drop-off your art piece to the Burns Bog Conservation Society Office: 4-7953 120 Street, Delta, BC, V4C 6P6
*participants may be asked to provide a physical copy of the piece if shortlisted.
If you have any questions or concerns, please send an email to art@burnsbog.org. 
Searching Availability...
Hi teachers! Are you looking for a fun, end of school activity to get your class excited about nature and art? Do your students want to participate in the contest, but haven't had the chance to visit Burns Bog? We will be offering in-class art workshops to help bring the bog to you! Workshop leaders will provide a short presentation on Burns Bog, present plant and animal specimens, and lead a short lesson on drawing techniques. Each workshop is developed with learners needs and grade level in mind. If you have more questions about what this looks like, we can discuss more! Send an email to education@burnsbog.org. 
Prefer to lead the lesson yourself? We also have online resources, including suggested activities and presentation materials, available for free. Send an email to education@burnsbog.org.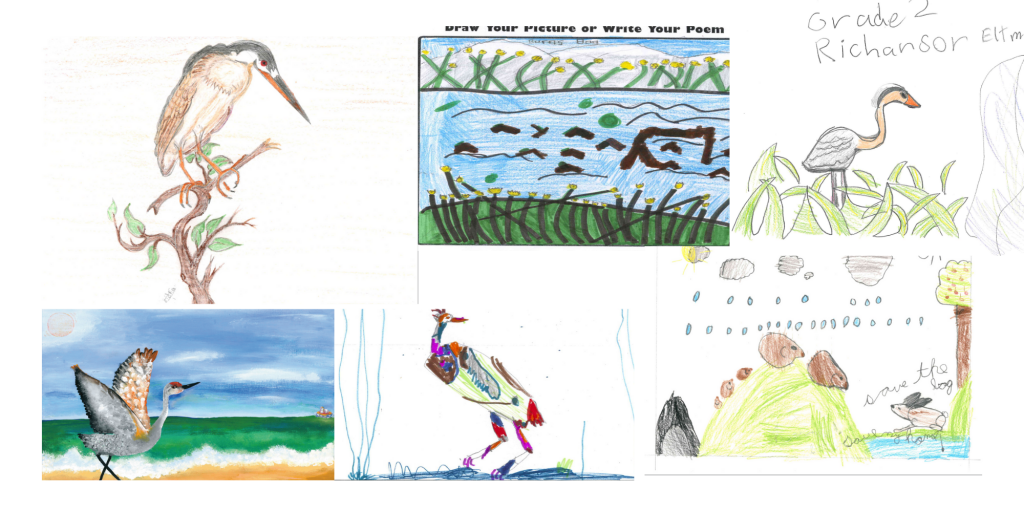 For each age category, one winner will be selected. 
Kindergarten – Grade 2
Grade 3  –  Grade 5
Grade 6 – Grade 8
Grade 9 – Grade 12
Adults 18+
Drawing / Painting
3D Sculpture
Writing (Poems, Stories, etc.)
Photography
Want to submit a type of art not listed here? Send us an email at art@burnsbog.org to discuss!