"The proposed development will impact the Ecological Integrity of the BBECA. It will directly impact hydrology, plant communities, peat forming processes and wildlife."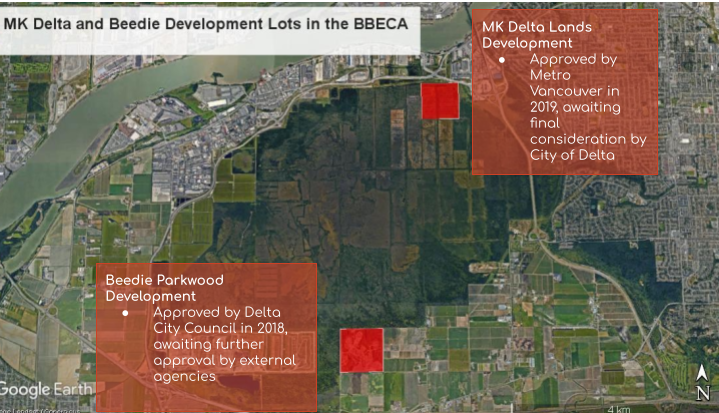 Both MK Delta Lands Group and Beedie propose development within "vacant lots, adjacent to Burns Bog." This is where the trouble starts: a clear distinction must be made between the protected Burns Bog Ecological Conservancy Area (BBECA) and the historic, functioning peatland known as Burns Bog. When the BBECA was established in 2004, the government was unable to acquire around 500 acres of privately owned land, concentrated on the edges of the bog. This unprotected wetland is where both projects- one in the northeast corner of Burns Bog, the other on the southern perimeter- are proposed to take place. Phrasing can be misleading. These companies are not proposing development adjacent to Burns Bog, but on vulnerable sections of the bog itself.
Land change can be natural and necessary: humans have used and altered the environment for thousands of years. However, landscapes have been changing at an accelerated rate in the last century. We don't have to look far to notice these trends: while it took around 6,000 years for Burns Bog to be created, in fewer than 100 years, around 4000 acres (which is around equal to the area protected today) was lost, and two thirds of the surviving habitat was degraded by industry. Some of this habitat will be restored slowly, over generations; other areas will never be restored.
We like to believe we have learned from the past and the fight for protection is over. However, in light of MK Delta Land Group and Beedie development proposals, it's clear that land conversion of unprotected bog habitat remains a threat. We need to understand what these development projects may truly mean for the conservation of the wetland.
First: as these lots contain historic bog habitat, and currently sit on the margins of Burns Bog, we need to consider what on site value will be lost due to development. New research is suggesting that unique habitat on the outer edge of bogs is critical to the function of these ecosystems. These perimeter areas, known as lagg ecosystems, protect bog conditions by maintaining their hydrology and preventing the introduction of nutrients from outside sources. We have historically done poorly at protecting these areas: around 75% of the original lagg area of Burns Bog has been lost. A 2018 report by Howie and van Meerveld offers hope that these areas may be restored, and found new lagg habitat is forming within the historic range of Burns Bog. However, some of this new, sensitive lagg habitat is near or within the two lots proposed for development. Just as we are learning about the importance of lagg habitat, continuing the degradation and loss of these areas is being considered.
Second, the unpredictable but likely negative effects on the adjacent BBECA need to be addressed. In a 2016 meeting regarding MK Delta's plan, members of the Burns Bog Ecological Conservancy Scientific Advisory Panel stated that the "The proposed development will impact the Ecological Integrity of the BBECA. It will directly impact hydrology, plant communities, peat forming processes and wildlife." Similar concerns have been raised for the Beedie project (known as the Parkwood Industrial Estate): a 2016 site assessment identified yellow listed and red listed plant communities in nearby sites, and noted on site foraging areas for listed species such as great blue herons, barn owls, peregrine falcons, pacific water shrew and olympic shrew. How exactly development may impact these species and habitat is uncertain. However, we need to consider if the proposed development is worth the risks it carries.
To consider this land vacant before a building is placed on it is to diminish the essential values of lagg and bog habitat. Municipal, regional and provincial governments continue to make commitments to the protection of essential wetland habitat. In order to hold true to these objectives, they need to reaffirm their commitment to protect Burns Bog. If you would like your opinion on the matter to be heard, please consider writing a letter to your local MP and municipal government. Community voices helped protect the bog in the past, and are still essential for protecting the bog today.
The following links provide more information on proposed development:
MK Delta Land Group:
https://www.delta.ca/your-government/delta's-projects/mk-delta-lands-group-industrial-application-7969-highway-91-connector
https://www.delta.ca/docs/default-source/community-planning-and-development/mk-delta-lands-group/mkdlg-council-presentation-june-20-2016.pdf?sfvrsn=39121f3c_2
Beedie Development Group:
https://delta.ca/your-government/delta's-projects/parkwood-industrial-application-at-5224-88-street
https://www.beedie.ca/wp-content/uploads/Parkwood-Industrial-Estates_Brochure_13Apr21.pdf
Report by Howie & van Meerveld (2018):
https://link.springer.com/article/10.1007%2Fs13157-011-0168-5