Novice Ecologists of Wetlands Training (NEWT) Program
Presented By the Burns Bog Conservation Society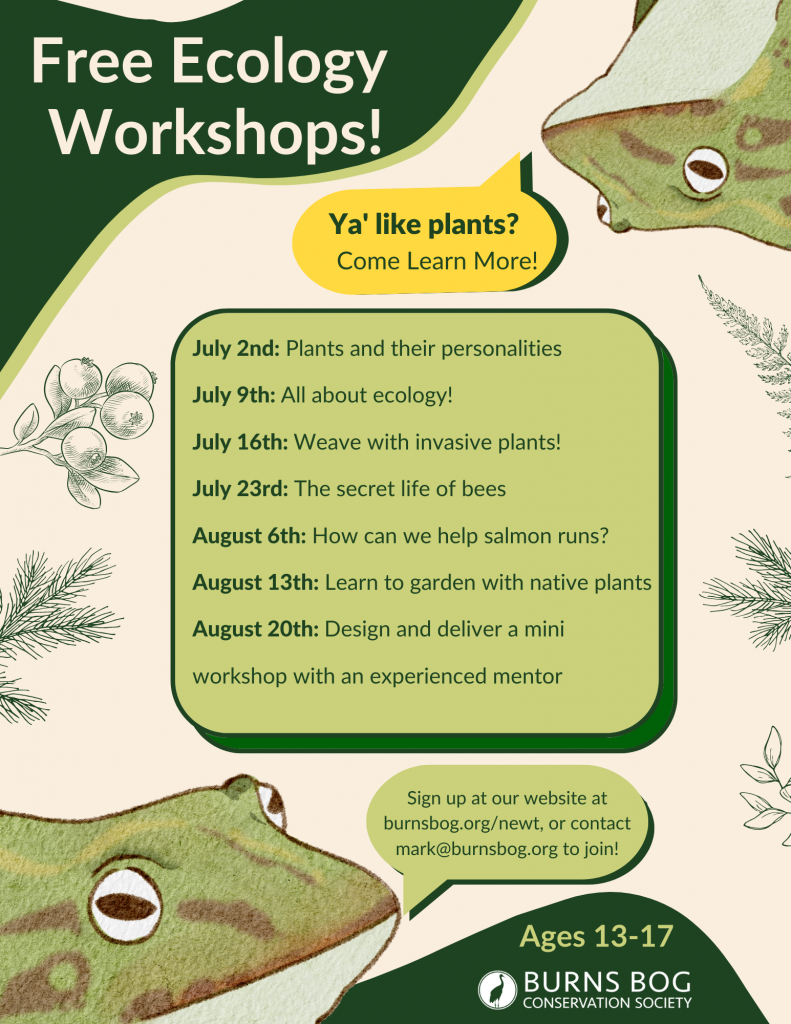 Have you ever wanted to know more about the plants and animals around you? Why are they growing this way? Why does this forest feel different than that one? This summer, we're launching the Novice Ecologists of Wetlands in Training (NEWT) program for anyone 13 to 17 years old who loves being out in nature. The NEWT program dives deep into these questions and more, through hands-on activities with real researchers and caretakers. Get to know the life of salmon and how you can help them thrive! Learn to recognize ecosystems based on their plant communities! 
Every Saturday from July 2nd to August 30th* from 10 a.m. to 4 p.m., you will learn from a new expert at the Delta Nature Reserve (10388 Nordel Ct, Delta, BC). At the end of the program, you will get to choose a topic and work in a small team with that mentor to create your own workshop. You'll be able to share what you've learned with your friends and family at a final event in mid-September. 
Throughout the program you'll get to meet other people your age who share your passion for the natural world. Who knows what kinds of friends you could make as you catch bees in a meadow or weave with invasive plants? 
This is a small program that can only accommodate 20 budding ecologists, naturalists, and outdoorspeople, so spots are limited. Applications are still open! Apply now for a chance to be a part of this special group and learn the skills that will open doors in environmental careers!
You can email mark@burnsbog.org if you have any further questions. 
*Except for July 30th, which is part of the BC day long weekend.